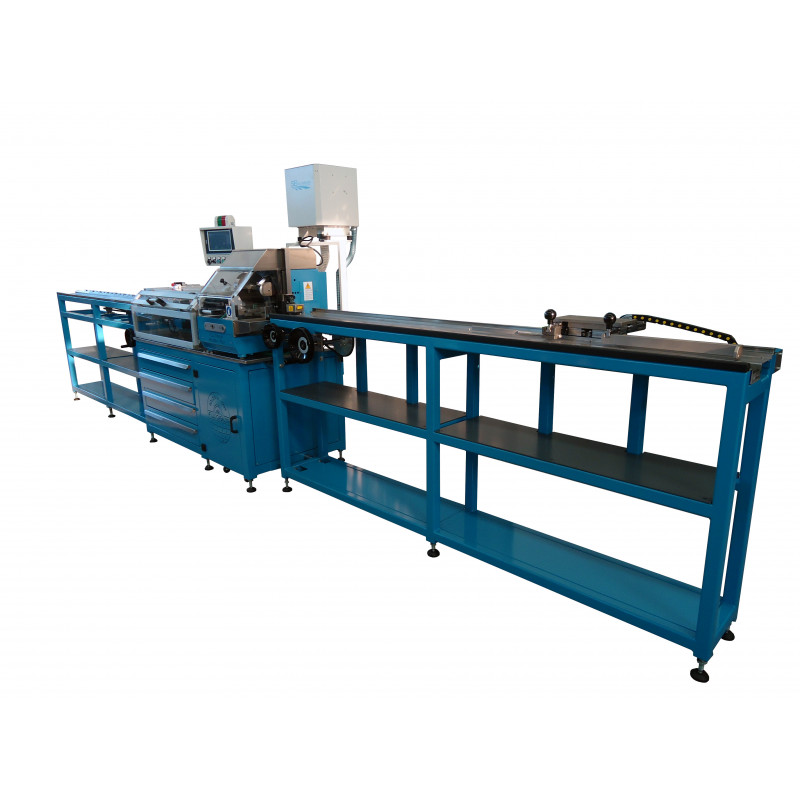  
203HT MICRO CUT - AUTOMATIC CUTTING MACHINE FOR MICRO-CUTS
High production automatic cutting machine for micro-cuts of stainless steel tubes and needles from 1mm diam.
Send me more info for the product :203HT MICRO CUT - AUTOMATIC CUTTING MACHINE FOR MICRO-CUTS
You must fill all fields
PRODUCT DESCRIPTION
Aluminum fusion frame, inside painted with a special anticorrosive treatment, externally beige RAL 7038, other colours on request.
Inside components in stainless steel, bronze and special aluminum.
Grinding wheel arm in aluminum smelting.
Watertight Spindle and motor Assembly.
Pressurized spindle Assembly.
4 axles: bars storage, feeder with clamps, vice group and grinding wheel arm vertical movement.
Panel control with low voltage.
Safety systems following CE rules.
Manual emergency push-button.
Interlocked cover-guard safety micro-switch, with possibility to be opened only in case movements are completely stopped and steady.
Cooling system managed by closed-cycle electric pump with three ways tap to wash the machine inside.
Fitted to connect to a steam aspirator.
ATF50 auxiliary stainless steel tank of 50l with settling, pump and vertical filter bag.
OPTIONAL DEVICES
Aspirator.
Filter system with magnetic dirt separator and paper filter.
OTHER OPTIONAL DEVICES ON REQUEST
Data sheet
GRINDING WHEEL MOTOR

1,5kW

Ø GRINDING WHEEL

200mm

STANDARD VOLTAGE

400V - 50Hz - THREE-PHASE

VARIABLE SPEED WHEEL

0-5500min-1

GRINDING WHEEL ARM MOVEMENT

VERTICAL SET ON LINEAR GUIDES

MAX DIMENSIONS TO CUT Ø

12mm

WEIGHT

600kg

DIMENSIONS

300 X 130 X H 170cm
Other products in category Special sectioning machines: