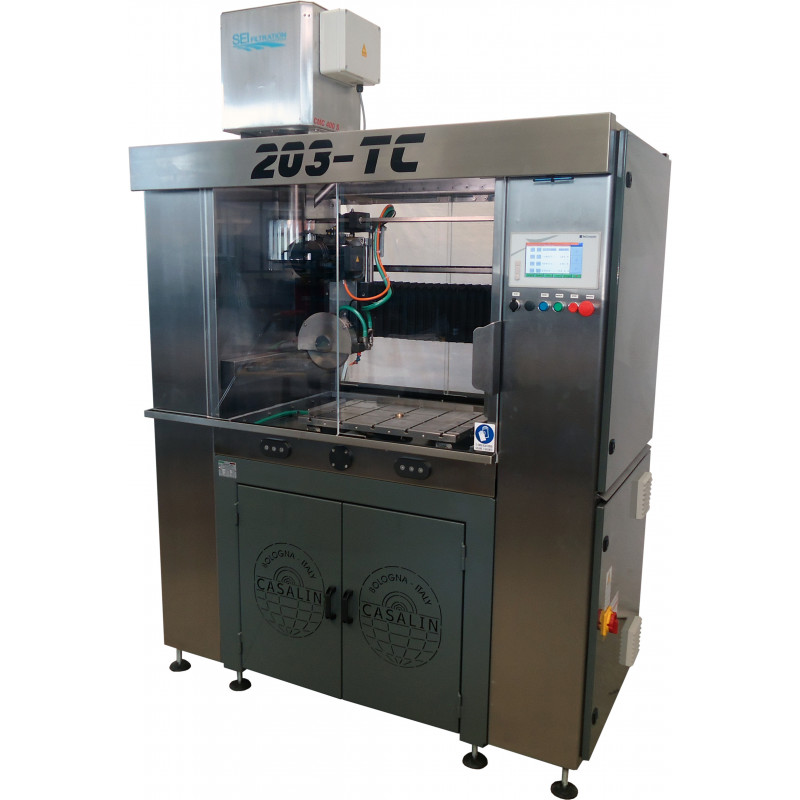  
203TC - AUTOMATIC TANGENTIAL SECTIONING MACHINE
Tangential sectioning machine designed and built for the cutting of carbon, kevlar, composite, resin, glass, ceramic, steel, etc .... Through the cutting, it is possible to obtain parallel sample of big sizes for traction, compression and other laboratory tests.
Send me more info for the product :203TC - AUTOMATIC TANGENTIAL SECTIONING MACHINE
You must fill all fields
PRODUCT DESCRIPTION
Welded, stabilized sand-blasted frame, then worked to have a perfect axles squareness. 
Components in contact with the coolant liquid, made of stainless steel.
Structure painted grey RAL 7043, other colors on request.
Inside components in stainless steel, bronze and special aluminum.
Stainless steel table with M8 T-slots.
3 automatic axes: vertical and transverse grinding wheel's arm movement, longitudinal movement work-table.
Air system for the spindle cooling and the separation of the coolant in the rotation area of the  front spindle bearings.  
Watertight Spindle and motor assembly.
7" color touch screen CNC with 100 stored grinding programs.
Ethernet and USB connections. 
Safety systems following CE rules.
Manual emergency push-button.
Interlocked cover-guard safety micro-switch, with possibility to be opened only in case movements are completely stopped and steady.
Cooling system managed by a closed-cycle electric pump with three ways tap to wash the machine inside.
Fitted to connect to a steam aspirator.
OPTIONAL DEVICES
Locking masks for specimens.
Aspirator.
Filter system with paper filter.
OTHER OPTIONAL DEVICES ON REQUEST
Data sheet
GRINDING WHEEL MOTOR

2kW

Ø GRINDING WHEEL

200mm

STANDARD VOLTAGE

400V - 50Hz - THREE-PHASE

VARIABLE SPEED WHEEL

0-5500min-1

GRINDING WHEEL ARM MOVEMENT

LONGITUDINAL SET ON LINEAR GUIDES

TRANSVERSAL STROKE HAND-WHEEL'S

600mm

VERT. STROKE GRINDING WHEEL'S ARM

140mm

LONGITUDINAL STROKE

300mm

WEIGHT

930kg

DIMENSIONS

162 X 98 X H 190cm
Other products in category Tangential sectioning machines: