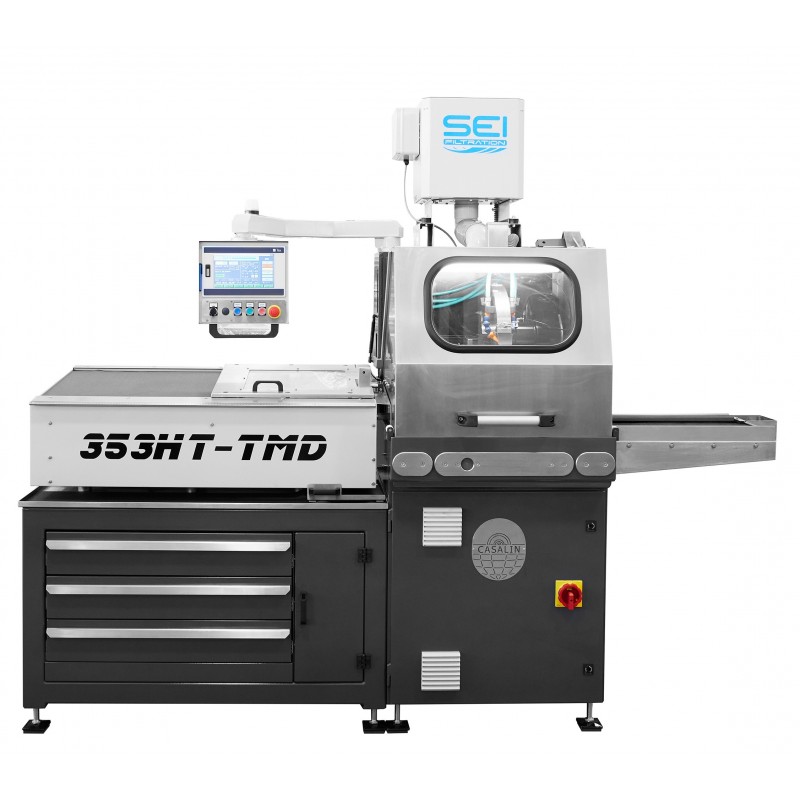  
353HT TMD – AUTOMATIC CUTTING MACHINE FOR CARBIDE CUTTING
The series of TMD (hard metal cut) cutting machines has been studied and planned to solve any cutting matter for hard metal bars manufacturers, tool grinders, tools manufactures (milling cutters for metal, cutters for wood, taps, reamers, carbide tips, punches, dies, brazed tools, blades for planes, carbide components, etc..) and special tools manufacturers. 
Send me more info for the product :353HT TMD – AUTOMATIC CUTTING MACHINE FOR CARBIDE CUTTING
You must fill all fields
The sectioning machine 353HT TMD covers the range of carbide and tungsten cylinders cut from ø 2 mm up to ø 60 mm, bars with internal cooling holes and bars with carbide rectangular or square sections, or shaped bars for tools for planes.
The main feature of such cutting machine is the cutting precision and the easy set up to adjust the shape. The cutting machine has been designed to carry out both automatic single cut and automatic production ones, with bar-loaders allowing autonomous cut management, without any operator. The cutting machine can automatically work various diameters and different lengths on the same bar, by optimizing the cutting quantity of each bar so that waste is very little or even inexistent.
PRODUCT DESCRIPTION
10mm thickness iron frame, welded, stabilized sand-blasted, then worked to have a perfect axles squareness.

Externally painted grey RAL 7035 and grey RAL 7043, other colors on request.

Inside components in stainless steel, bronze

and special aluminum.

Watertight spindle and motor assembly.

Spindle grease lubrication.

10" color touch screen CNC with 100 cutting programs.

Ethernet and USB connections.

Safety systems according to CE rules.

Manual emergency push-button.

Automatic wheel diameter control.

Light inside the working area with LED.

Automatic loader complete of warehouse to contain bars.

Stainless steel cover guard complete of plexiglass window for internal view and side openings for bars passage.

Interlocked safety micro-switch according CE rules with forced opening contacts by means of an automatic electromagnetic disengagement when the cover-guard is opened.

Electric clamps group with double lever.

Air system for the spindle cooling and the separation of the coolant in the rotation area of the front spindle bearings.

Auxiliary inox tank into the rear part of the sectioning machine.

Possibility to work with cooling system with emulsified water or with whole oil.

Fitted to connect to a steam aspirator. 
OPTIONAL DEVICES
Automatic outlet.
Aspirator. 
Cartridge filtering liquid external unit.
Magnetic filtration external unit.
OTHER OPTIONAL DEVICES ON REQUEST
Data sheet
GRINDING WHEEL MOTOR

9,2kW

Ø MAX GRINDING WHEEL

300mm

STANDARD VOLTAGE

400V – 50Hz - THREE-PHASE

VARIABLE SPEED WHEEL

0-50m/s

GRINDING WHEEL ARM MOVEMENT

VERTICAL SET ON LINEAR GUIDES ON ROLLERS

VERTICAL STROKE

290mm

MIN DIMENSIONS TO CUT Ø

2mm

MAX DIMENSIONS TO CUT Ø

60mm
Optional 80mm

LENGTH BARS STORAGE

450mm
Optional 700mm

WEIGHT WITH SUPPORT

1300kg

DIMENSIONS WITH SUPPORT

262 X 120 X H 241cm
Other products in category Carbide cutting machines: