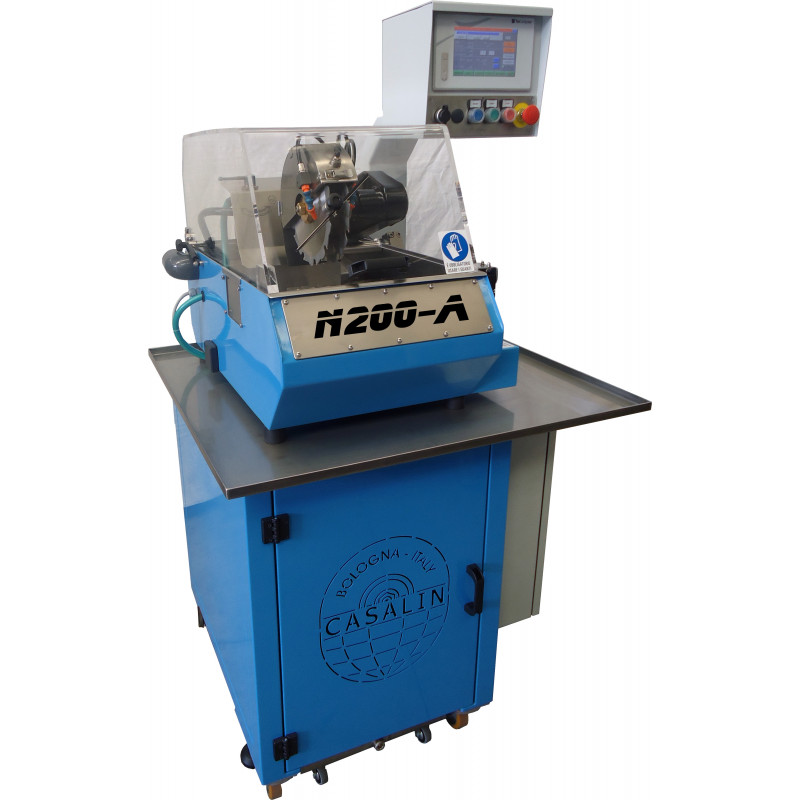  
N200-A - AUTOMATIC SECTIONING MACHINE FOR METALLOGRAPHIC SAMPLES
Sectioning machine with tilting cut-off wheel arm motion, compact and versatile very friendly use and tooling, perfect to optimally cut metallographic samples, carbide, hardened steel, composites, plastic materials and so on …. The N200-A has got small dimensions but all the features of a bigger automatic cutting machine. The specimen, once cut, is free of burrs and burns, going through any quality tests processes.
Send me more info for the product :N200-A - AUTOMATIC SECTIONING MACHINE FOR METALLOGRAPHIC SAMPLES
You must fill all fields
PRODUCT DESCRIPTION
Stainless steel frame, externally painted light blue RAL 5012, other colours on request.
Inside components in stainless steel, bronze and special aluminium.
Grinding wheel arm in aluminium smelting.
Watertight Spindle and motor Assembly.
Spindle grease lubrication.
Work- table with M6 T-slots to clamp irregular pieces or to fix the vice.
Safety systems following CE rules.
Manual emergency push-button.
Interlocked cover-guard safety micro-switch, with possibility to be opened only in case movements are completely stopped and steady.
Cooling system managd by a closed-cycle electric pump with three ways tap to wash the machine inside.
Fitted to connect to a steam aspirator.
External push-button for CNC housing.
7" color Touch-screen CNC with 100 cutting programs.
Ethernet and USB connections. 
Electric panel fixed to the machine support.
Machine support with door and ATF50 auxiliary tank housing.
ATF50 50 lt. auxiliary tank on wheels, with settling, pump and vertical bag.
OPTIONAL DEVICES
Stainless steel perforated basket with Magnets Assembly.
TTL150: 150mm.Lateral transversal table stroke. 
MSC 40: Single wedge vice.
MDC 40: Double wedge vice.
MSP 40: Single pneumatic vice .
MDP 40: Double pneumatic vice.
TG 200: 200mm diameter turning table with M6 T-slots and clamps.
Variable speed : 0 – 5500min-1.
Special vices on request.
Aspirator.
OTHER OPTIONAL DEVICES ON REQUEST
Data sheet
GRINDING WHEEL MOTOR

1.5kW

Ø GRINDING WHEEL

200mm
Optional 230mm

STANDARD VOLTAGE

400V - 50Hz - THREE-PHASE

FIXED SPEED

3900min-1

GRINDING WHEEL ARM MOVEMENT

AUTOMATIC

VERTICAL STROKE

150mm

MAX DIMENSIONS TO CUT Ø

65mm (grinding wheel Ø 200mm)
80mm (grinding wheel Ø 230mm)

MAX DIMENSIONS TO CUT

120 x 40mm

WEIGHT

250kg

DIMENSIONS

85 x 87 x H 160cm
Other products in category Metallography sectioning machines and materials testing: