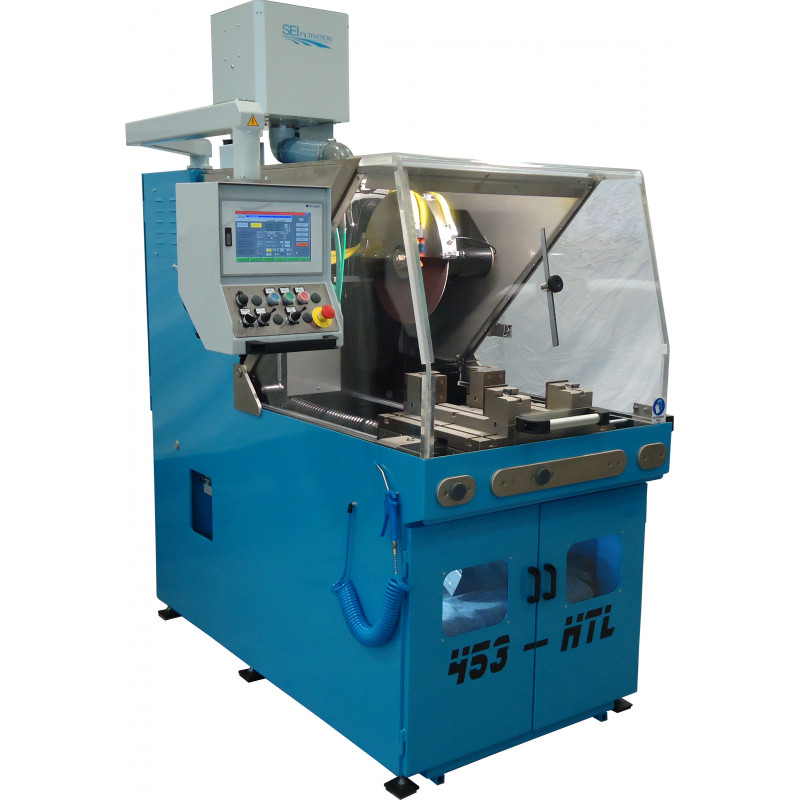  
453L - METALLOGRAPHIC CUTTING MACHINE TO CUT BIG AND LONG WORKPIECES
Metallographic cutting machine, studied to cut big workpieces. Its main feature is to have a longitudinal stroke suitable to cut very long workpieces.
Send me more info for the product :453L - METALLOGRAPHIC CUTTING MACHINE TO CUT BIG AND LONG WORKPIECES
You must fill all fields
PRODUCT DESCRIPTION
12mm thickness iron frame, welded, stabilized sand-blasted, then worked to have a perfect axles squareness. 
Inside painted with a special anticorrosive treatment; externally light blue RAL 5012, other colours on request.
Inside components in stainless steel, bronze and special aluminium.
Air system for the spindle cooling and the separation of the coolant in the rotation area of the front spindle bearings.  
Watertight spindle and motor Assembly.
Work- table with M12 T-slots to clamp irregular workpieces or to fix the vice.
3 axles: vertical, longitudinal and transversal, managed by external hand-wheels.
Rotation panel control with mobile arm to easily reach the controls and to have the complete vision of the working area.
Safety systems following CE rules.
Manual emergency push-button.
Light Inside the working area.
Safety micro-switch with electromagnetic lock.
Cooling system managed by a closed-cycle electric pump with three ways tap to wash the machine inside.
Fitted to connect to a steam aspirator.
250l Refrigerant tank of, movable on wheels, with pump support, equipped to be connected to the filter system. All placed in the front of the frame.
Electrical part in rear of the frame.
OPTIONAL DEVICES
Variable speed : 0 – 4000min-1.
Possibility to automate the axes.
MSC 90: Single wedge vice.
MDC 90: Double wedge vice.
MSP 90: Single pneumatic vice.
MDP 90: Double pneumatic vice.
TG 400: Turning work-table diameter 400mm with M12 T-slots and clamps.
Special vices on request.
Aspirator.
Filter system with magnetic dirt separator and paper filter.
Filter system with small perforated baskets and magnets Assembly.
OTHER OPTIONAL DEVICES ON REQUEST
Data sheet
GRINDING WHEEL MOTOR

1,5kW

Ø GRINDING WHEEL

450mm
Optional 500mm

STANDARD VOLTAGE

400V – 50Hz - THREE-PHASE

FIXED SPEED

2000min-1

GRINDING WHEEL ARM MOVEMENT

VERTICAL SET ON LINEAR GUIDES

VERTICAL STROKE

390mm

LONGITUDINAL STROKE

870mm

TRANSVERSAL STROKE

140mm

MAX DIMENSIONS TO CUT Ø

150mm (grinding wheel Ø 450mm)
175mm (grinding wheel Ø 500mm)

MAX DIMENSIONS TO CUT

150 x 400mm (grinding wheel Ø 450mm)
175 x 400mm (grinding wheel Ø 500mm)

WEIGHT

1900kg

DIMENSIONS

100 x 210 x H 180cm
Other products in category Metallography sectioning machines and materials testing: