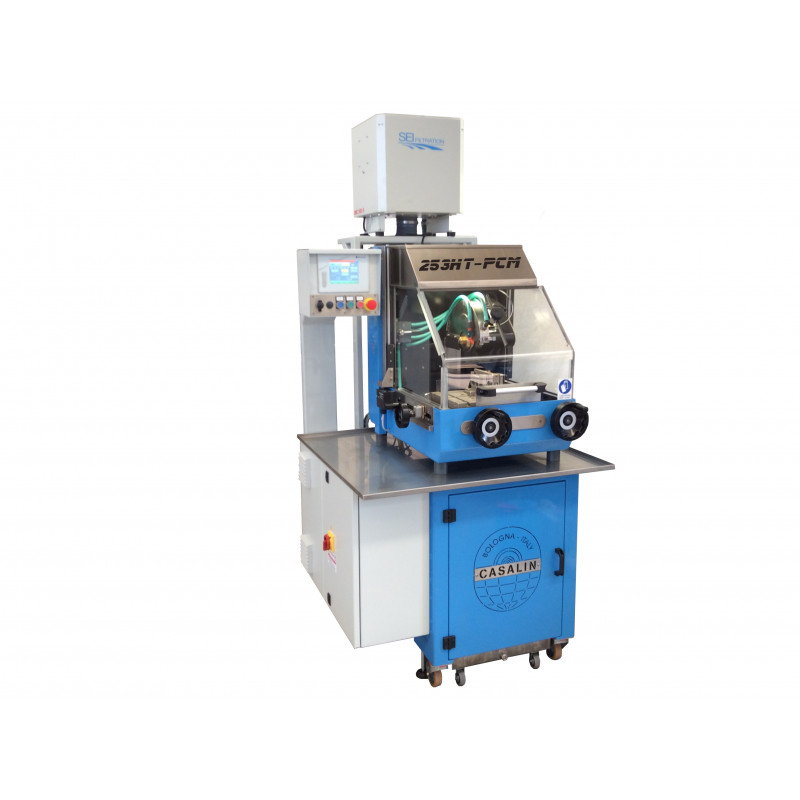  
253HT PCM - MANUAL SECTIONING MACHINE FOR RESILIENCE PREPARATION
The 253HT PCM manual sectioning machine has been designed both for metallography and for preparing the resiliences for the Charpy Test. In a single work cycle it dissects the resilience to lenght and make the notch. During the same working cycle it can perform the preparation on 6 resilience samples.
Send me more info for the product :253HT PCM - MANUAL SECTIONING MACHINE FOR RESILIENCE PREPARATION
You must fill all fields
PRODUCT DESCRIPTION
8mm thickness Iron frame, welded, stabilized sand-blasted, then worked to have a perfect axles squareness. 
Inside painted with a special anticorrosive treatment; externally light blue RAL 5012 , other colours on request.
Inside components in stainless steel, bronze and special aluminium.
Air system for the spindle cooling and the separation of the coolant in the rotation area of the front spindle bearings.  
Watertight Spindle and motor Assembly.
Spindle grease lubrication.
Spindle cutting wheel / tool controlled by a brushless motor and CNC.
3 axes: vertical, longitudinal and transversal managed by a brushless motor and CNC.
7" color touch screen CNC.
Ethernet and USB connections. 
Safety systems following CE rules.
Manual Emergency push-button.
Light Inside the working area.
Interlocked cover-guard safety micro-switch, with possibility to be opened only in case movements are completely stopped and steady.
Cooling system by a closed-cycle electric pump with three-way valve for internal washing machine.
Fitted to connect to a steam aspirator.
Support machine with wheels and adjustable feet and ATF 80 housing.
ATF 80, 80l auxiliary stainless steel tank with settling, pump and vertical stainless steel filter. All removable from the front with wheels.
OPTIONAL DEVICES
Mask for clamping specimens.
Aspirator.
OTHER OPTIONAL DEVICES ON REQUEST
Data sheet
Ø GRINDING WHEEL

metallographic cutting 300mm
resilience cutting 200mm ≠ 1.5mm

Ø TOOL CARBIDE

100mm

TORQUE MOTOR GRINDING WHEEL/ TOOL

17.8Nm

STANDARD VOLTAGE

400V 50Hz - THREE-PHASE

VARIABLE SPEED WHEEL

0-4000min-1

GRINDING WHEEL ARM MOVEMENT

VERTICAL SET ON LINEAR GUIDES ON ROLLERS

VERTICAL STROKE

180mm

LONGITUDINAL STROKE

290mm

TRANSVERSAL STROKE

56,5mm

SECTIONABLE SAMPLES IN A CYCLE

6 Pieces

WEIGHT WITH SUPPORT

400kg

DIMENSIONS WITH SUPPORT

140 x 110 x H 170cm
Other products in category Metallography sectioning machines and materials testing: