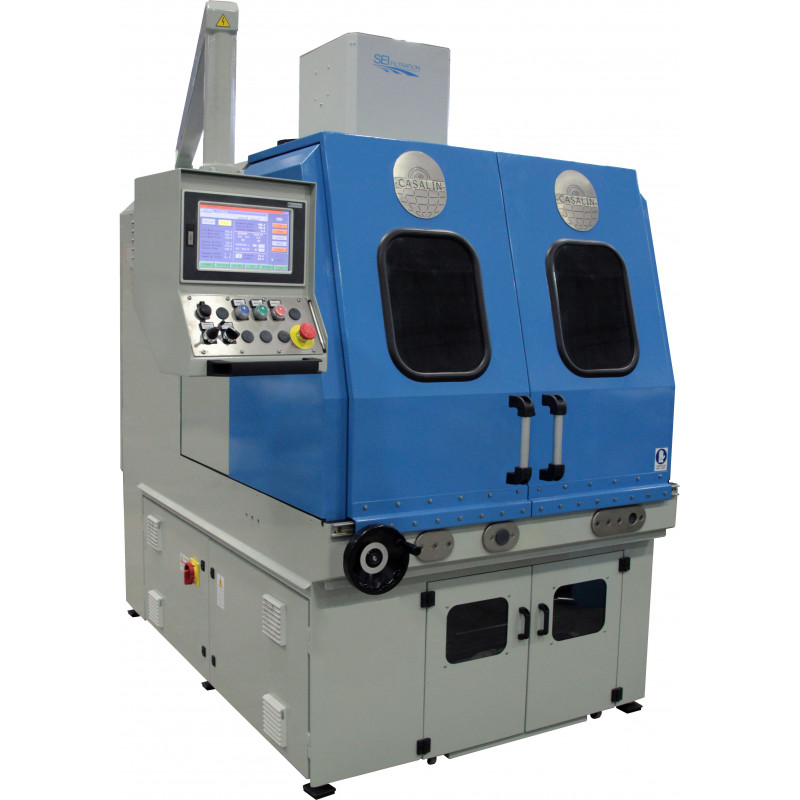  
503SP - METALLOGRAPHIC SECTIONING MACHINE TO CUT BIG WORKPIECES
Metallographic sectioning machine, planned to cut big workpieces. Its main features are it has got a very capacious cutting chamber with horizontal opening cover-guard to load the workpieces to be cut by means of a hoist. The 503SP has got :  vertical, longitudinal and transversal stroke suitable to cut very long and bulky workpieces. Furthermore, having got a very high power cut-off wheel motor, it is particularly appropriate to cut highly tensioned workpieces.  
Send me more info for the product :503SP - METALLOGRAPHIC SECTIONING MACHINE TO CUT BIG WORKPIECES
You must fill all fields
PRODUCT DESCRIPTION
12mm thickness iron frame, welded, stabilized sand-blasted, then worked to have a perfect axles squareness. 
Inside Painted with a special anticorrosive treatment; externally light blue RAL 5012  and  beige RAL 7038, other colours on request.
Inside components in stainless steel, bronze and special aluminium.
Air system for the spindle cooling and the separation of the coolant in the rotation area of the front spindle bearings.  
Watertight Spindle and motor Assembly.
Work-table with M12 T-slots to clamp irregular workpieces or to fix the vice.
2 axles: automatic vertical and longitudinal ones managed by CNC. Transversal table axle managed by external hand-wheel.
Touch screen color CNC. Possibility to store 100 different working programs.
Ethernet and USB connections. 
Rotation panel control with mobile arm to easily reach the controls and to have the complete vision of the working area.
Safety systems following CE rules.
Manual Emergency push-button.
Light Inside the working area.
Interlocked cover-guard safety micro-switch, with possibility to be opened
only in case movements are completely stopped and steady.
Cooling system managed by a closed-cycle electric pump.
Washing system managed by electrical pump with washing spraygun.
Fitted to connect to a steam aspirator.
250l Refrigerant tank, movable on wheels, with pump support for cooling recirculation and pump support to wash with spraygun. All placed underneath the frame.
Electrical system on the lateral left side of the frame.
Sliding front cover-guard to load workpieces with a hoist.
OPTIONAL DEVICES
Automatic work-table transversal axle 
MSC 90: Single wedge vice.
MDC 90: Double wedge vice.
Special vices on request.
Aspirator.
Filter system with magnetic dirt separator and paper filter.
OTHER OPTIONAL DEVICES ON REQUEST.
Data sheet
GRINDING WHEEL MOTOR

30kW

Ø GRINDING WHEEL

500mm
Optional 600mm

STANDARD VOLTAGE

400V - 50Hz - THREE-PHASE

VARIABLE SPEED WHEEL

0-3000min-1

GRINDING WHEEL ARM MOVEMENT

VERTICAL SET ON LINEAR GUIDES

VERTICAL STROKE

590mm

LONGITUDINAL STROKE

780mm

TRANSVERSAL STROKE

200mm

MAX DIMENSIONS TO CUT Ø

150mm (grinding wheel Ø 500mm)
200mm (grinding wheel Ø 600mm)

MAX DIMENSIONS TO CUT

150 x 500mm (grinding wheel Ø 500mm)
200 x 500mm (grinding wheel Ø 600mm)

WEIGHT

3700kg

DIMENSIONS

150 x 230 x H 260cm
Other products in category Metallography sectioning machines and materials testing: