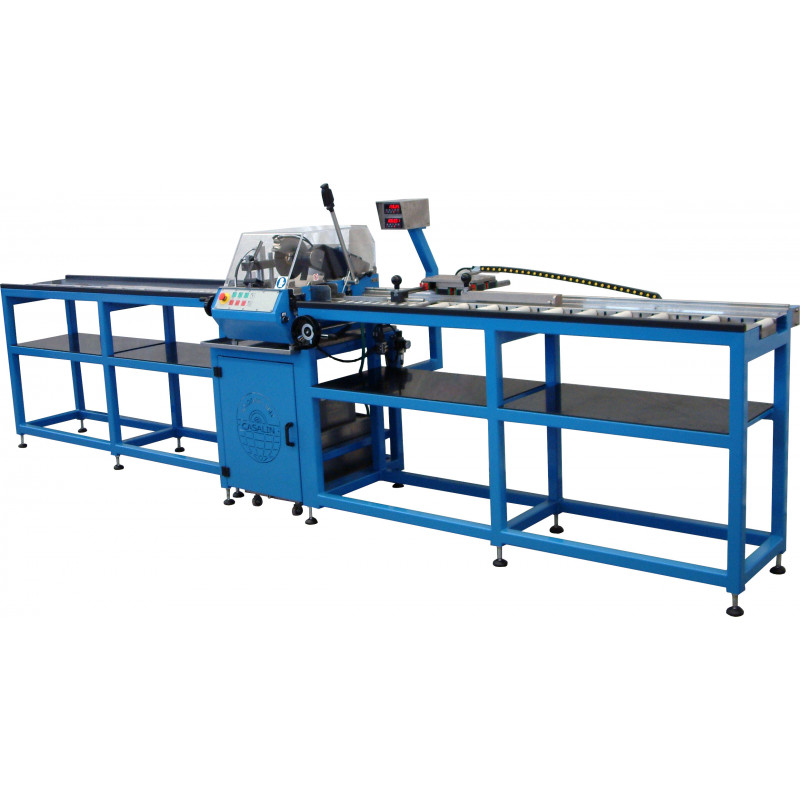  
N200-MAC200 - CUTTING LINE TO CUT LINEAR GUIDES, BALLSCREWS AND BARS
N200 MAC200 cutting line has been studied to solve any cutting matters about linear guides, ballscrews, hardened and chrome bars, stainless steel and so on. It takes really a little time to position the cut, granting the higher accuracy between the hole center and the end of the cut. The cut has got no burrs and burns keeping a perfect squareness.
Send me more info for the product :N200-MAC200 - CUTTING LINE TO CUT LINEAR GUIDES, BALLSCREWS AND BARS
You must fill all fields
PRODUCT DESCRIPTION
Stainless steel frame, externally painted light blue RAL 5012, other colours on request.
Inside components in stainless steel, bronze and special aluminium.
Grinding-Wheel arm in  aluminium smelting.
Watertight Spindle and motor Assembly.
Spindle grease lubrication.
Panel control with low voltage.
Safety systems following CE rules.
Manual Emergency push-button.
Safety micro-switch with forced opening contacts and automatic electromagnetic disengagement when the cover-guard is opened.
Cooling system managed by a closed-cycle electric pump with three ways tap to wash the machine inside.
Fitted to connect to a steam aspirator. 
MAC 200: System with pneumatic cone to centre the guide hole, motion displayed with centesimal resolution, by means of an external hand-wheel and pneumatic self-centering vices.
OPTIONAL DEVICES
SMR 20: Machine support with door and ATF50 auxiliary tank housing.
ATF50: 50l Auxiliary stainless steel tank with settling, pump and vertical filter bag.
Roller way in entrance and in exit.
Manual length measurement system.
Double length measurement system.  
Variable speed : 0 – 5500min-1.
Aspirator.
OTHER OPTIONAL DEVICES ON REQUEST
Data sheet
GRINDING WHEEL MOTOR

1,5kW

Ø GRINDING WHEEL

200mm
Optional 230mm

STANDARD VOLTAGE

400V – 50Hz - THREE-PHASE

FIXED SPEED

3900min-1

GRINDING WHEEL ARM MOVEMENT

TILTING BY LEVER

VERTICAL STROKE

150mm

MAX DIMENSIONS TO CUT Ø

50mm

MAX DIMENSIONS TO CUT

70 X 60mm

WEIGHT

70kg

DIMENSIONS

58 X 74 X H 51cm
Other products in category Machining of linear rails and shafts. Cutting frontal grinding and chamfering :