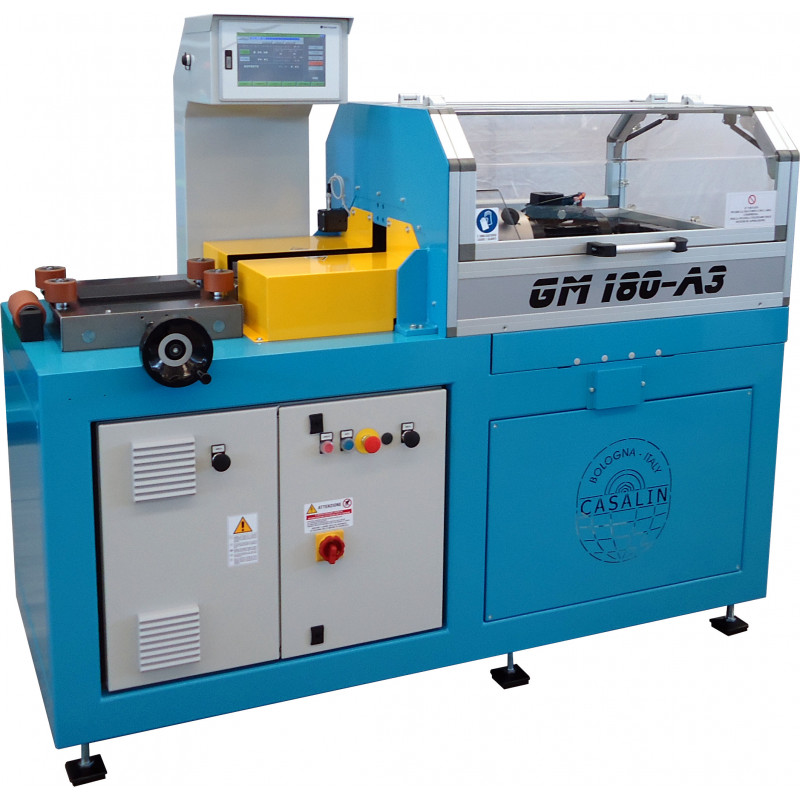  
GM180-A3 - AUTOMATIC GRINDING MACHINE LINEAR GUIDES AND SHAFTS
Automatic grinding machine to grind both the linear guides and the shafts front to make centesimal junctions.
Send me more info for the product :GM180-A3 - AUTOMATIC GRINDING MACHINE LINEAR GUIDES AND SHAFTS
You must fill all fields
PRODUCT DESCRIPTION
Grinding machine managed by CNC, fully automatic on the following procedures:
Reading test to remove the material until reaching the preset quote in the formats.
Removal of all the material left during the cutting phase.
Control Test once the grinding procedure is finished.
Automatic grinding wheel dressing.
10" color touch screen CNC with 100 stored grinding programs.
Ethernet and USB connections. 
Automatic head increase, managed by touch screen CNC.
Centesimal pneumatic transducer for guide length test.
Automatic pneumatic grinding wheel dressing.
Automatic test to check the grinding wheel position.
Automatic test to check the Grinding-wheel cover-guard
Frame in welded carpentry.
Externally painted light blue RAL 5012, other colors on request.
Self-centering system to feed the guides.
Self-centering pneumatic vices.
Laser to center the guide hole.
Pneumatic cone to center the guide hole.
Automatic longitudinal and transversal grinding wheel movement.
Manual Emergency push-button.
Double compass opening plexiglass cover-guard.
Safety micro-switch with mechanical lock.
Hopper with dust aspirator motor Assembly inside the structure, with dust reduction filters.
Data sheet
GRINDING WHEEL MOTOR

4kW

Ø GRINDING WHEEL

178mm

STANDARD VOLTAGE

400V - 50Hz - THREE-PHASE

VARIABLE SPEED WHEEL

0-3000min-1

HAND-WHEEL'S MOVEMENT

CROSS AND LONGITUDINAL ON LINEAR GUIDES

TRANSVERSAL STROKE HAND-WHEEL'S

140mm

LONGITUDINAL STROKE HAND-WHEEL'S

400mm

WEIGHT

760kg

DIMENSIONS

190 X 80 X H 165cm
Altri prodotti nella categoria Linee di taglio, intestatrici e smussatrici per guide lineari ed alberi: