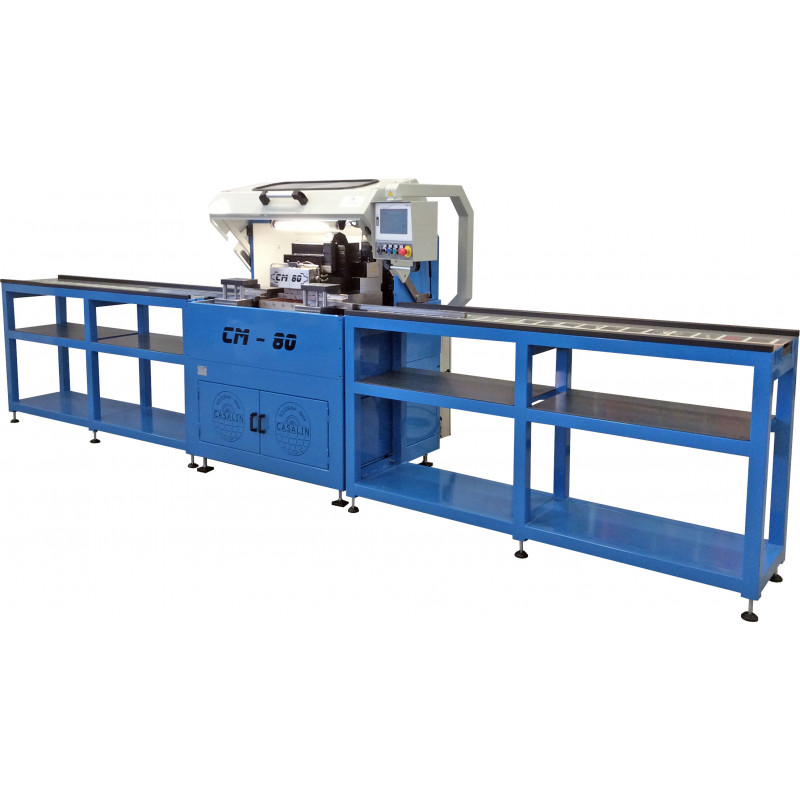  
CM-80 - MACHINE TOOLS TO AUTOMATICALLY CHAMFER LINEAR GUIDES
The CM80 has been designed as a machine tool with double clamp spindle to automatically chamfer all linear guides, tempered and chromated shafts and bars, and other profile, both on the right side and on the left side of the spindle. The chamfer done by the tool machine has no burrs and it's ready for the mounting.
Its main features are the rigidity of the structure, the spindle high-speed to be able to work with carbide tools and the simple programming.
Send me more info for the product :CM-80 - MACHINE TOOLS TO AUTOMATICALLY CHAMFER LINEAR GUIDES
You must fill all fields
PRODUCT DESCRIPTION
Stabilized and sand-blasted metallic carpentry frame, worked under boring machine for axles squareness.
Externally painted light blue RAL 5012. Other colors on request.
Compass opening protection cover-guard.
Interlocked cover-guard safety micro-switch, with possibility to be opened only in case movements are completely stopped and steady.
Light inside the working area.
Tank to recover machining scraps.
Electric panel fixed in the rear part of the frame.
External mobile pushbutton panel.
Emergency stop-button with manual reset.
10 " color touch screen CNC. Possibility to store 100 working programs of different profiles.
 Ethernet and USB connections.
CAD / CAM systems for rail profile machining.
Vertical and horizontal movement on recirculating ball-screws rollers rails.
Brushless motors for spindle vertical and horizontal axes movement.
Recirculating ball screw for spindle vertical and horizontal movement.
Axes movement protections bellows.
High-speed spindle with air cooling and double collet.
Possibility to work simultaneously both on the right and on the left clamp.
Tool profiled carbide wear-resistant coating for chamfering with right helical for left clamp and left helical for right clamp.
Air cooling cutting tool system.
Double pneumatic vice.
Electronic control vices-locking anti-crash tool. 
Roller way inside the vices to simplify the guide movement to work the beginning and the end of the rail, without having to rotate it.
Safety systems according to the accident prevention rules.
OPTIONAL DEVICES
Roller in entrance and in exit.
OTHER OPTIONAL DEVICES ON REQUEST
Data sheet
STANDARD VOLTAGE

400V - 50Hz - THREE-PHASE + NEUTRAL

SPINDLE POWER MOTOR

3kW – 2Nm

SPINDLE VARIABLE SPEED

0-5000m-1

VERTICAL AND TRANSVERSE SPINDLE MOVEMENT

LINEAR ROLLER RAILS AND RECIRCULATING BALL SCREWS

VERTICAL SPINDLE STROKE

150mm

TRANSVERSE SPINDLE STROKE

150mm

WEIGHT

900kg

DIMENSIONS

155 X 135 X H 180cm
Other products in category Machining of linear rails and shafts. Cutting frontal grinding and chamfering :