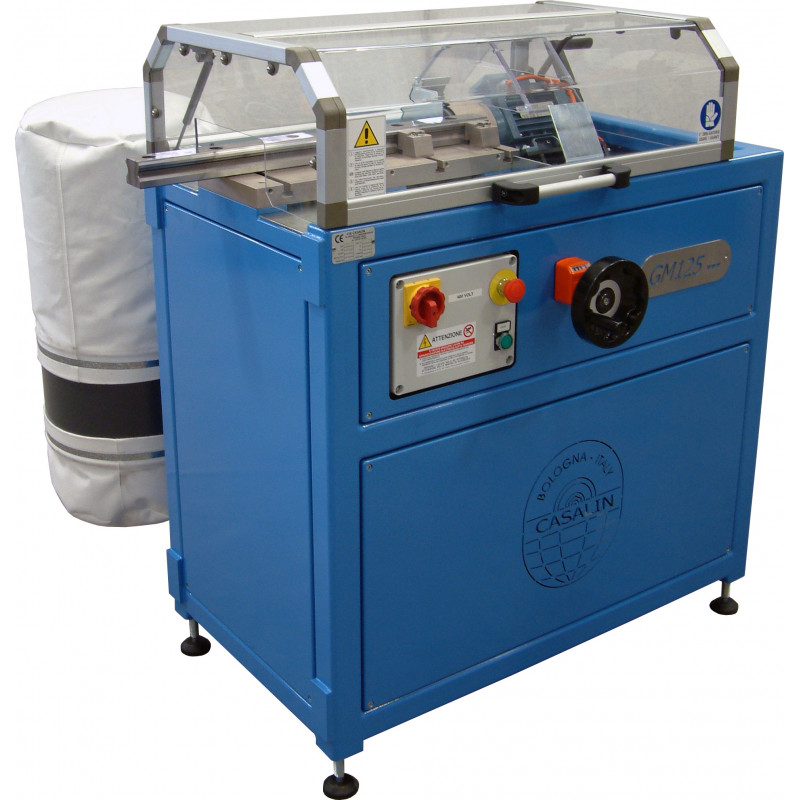  
GM125 - MANUAL GRINDING MACHINE LINEAR GUIDES AND SHAFTS
Manual grinding machine to grind the linear guides and shafts head to make centesimal joints.
Send me more info for the product :GM125 - MANUAL GRINDING MACHINE LINEAR GUIDES AND SHAFTS
You must fill all fields
PRODUCT DESCRIPTION
Manual grinding machine with tilting head movement to grind linear guides,  shafts and screws head.
Welded, stabilized frame externally painted light blue RAL 5012, other colours on request.
Plane to fix guides with T-slots for vices assembly with wedge blocking.
Manual grinding wheel head advancement transversal increase, by external hand-wheel with centesimal reading, and zeroing push-button on the tool.
Manual emergency push-button.
Plexiglass cover-guard with compass opening.
Safety micro-switch with opening forced contacts with automatic electromagnetic disengagement when the cover-guard is opened.
Hopper with box to recover machining wastes.
1 carat dresser tool.
Fitted to connect to a dust aspirator. 
OPTIONAL DEVICES
Dust aspirator motor assembly inside the structure, with dust reduction filters outside the structure.
OTHER OPTIONAL DEVICE ON REQUEST
Data sheet
GRINDING WHEEL MOTOR

1,5kW

Ø GRINDING WHEEL

125mm

STANDARD VOLTAGE

400V - 50Hz - THREE-PHASE

FIXED SPEED

2800min-1

HAND-WHEEL'S MOVEMENT

TILTING BY LEVER

WEIGHT

300kg

DIMENSIONS

105 X 73 X H 116cm
Other products in category Machining of linear rails and shafts. Cutting frontal grinding and chamfering :